The Benefits of Our Infant Massage Program in SC
So, what exactly is Infant Massage?
Here at Bright Start in South Carolina, we offer a service called Infant massage, and yet many parents are unclear on exactly what it is and its great benefits. In simplest terms, it is a healthy practice where parents interact and assist their baby by using mild massage techniques on the child. The practice provides great parent-child bonding time, and it also has immense physical, emotional, and psychological benefits for the infant.
The practice of infant massage originated from a woman named Vimala Mcclure who wrote the book Infant Massage: A Handbook for Loving Parents. Ms. Mcclure was integral to popularizing the practice and originating many of the healthy massage techniques, specifically after spending time in an orphanage in northern India.
Today, the practice of infant massage has taken root here in the US, and in fact our own educators are certified through the International Association of Infant Massage. As you can read on their website, "In 1978, at the request of local childbirth educators, Vimala developed a training program, based on the massage she had learned in India, and had started sharing in her Denver, Colorado community. She incorporated Swedish and reflexology methods and yoga poses, all adapted for babies. She named the strokes, designed a special routine for colicky babies, and developed a course for parents that became the core curriculum for IAIM."
What are the benefits of Infant Massage to a baby and their parents in South Carolina?
The healthcare community's understanding of infant massage's benefits are far reaching, and also growing constantly. When thinking about the infant and parent/caregiver collectively, the biggest benefit is certainly the bonding and attachment that comes from having a close, physical relationship. But for parents and families, the benefits don't stop there.
Beyond just general bonding time, it helps parents develop a deeper understanding of their child, their needs, and their individual uniqueness. On a personal level, the massage time offers parents an opportunity to decompress, destress, and relax – all while appreciating and enjoying their baby.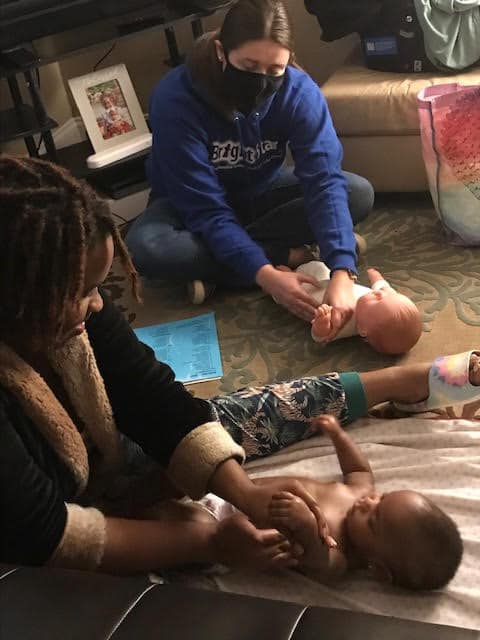 For the child, the benefits are immense. Remember, babies grow rapidly through significant stages of development in the infant stage, and all variable inputs during these growth stages have far-reaching effects, especially the inputs from their parents, families, or caregivers. Massage techniques can focus on the face, arms, back, hands, chest, tummy, legs and feet – each part having its own unique benefits.
Massage techniques can aid the infant in many sensory ways. Massage can help to alert and awaken the senses and develop a mind-body connection for the child. Massage can activate and improves all aspects of digestion, blood flow, immune systems, nervous systems, and so on. Massage can also aid the development of pre-verbal, verbal, and non-verbal communication. It can also promote overall well-being, relaxation, and healthy sleeping patterns.
How do Infant Massage and Early Intervention relate to each other?
Early Intervention is a core service offered by us here at Bright Start, and so parents often want to know how it relates to Infant Massage. Infant Massage coaching from our trained educators is often extremely beneficial in Early Intervention cases, when we are helping a family and assisting a child who is experiencing developmental disabilities or delays, such as motor skills or communication issues. The infant massage techniques you will learn can help in those developmental scenarios in many ways.
Once parents realize the benefits of infant massage, it commonly becomes a regular routine between them and their child. Over the years, we've seen interest in Infant Massage grow rapidly, and we are proud to be one of the leaders in South Carolina for advancing these services and practices. It directly aligns with our mission to help families.
How To Receive Bright Start Infant Massage Instruction in SC?
Remember that much like Early Intervention, infant massage means a trained educator will come to your home with an emphasis on teaching, coaching, and empowering you, the parent or caregiver. Our Infant Massage therapists show you how to implement these massage techniques with your child, so you can learn them and implement them yourself moving forward.
If you are interested in learning more about infant massage or receiving these services, simply Contact Us, and we will be happy to connect you with one of our educators.