Key Benefits of Early Intervention for Special Needs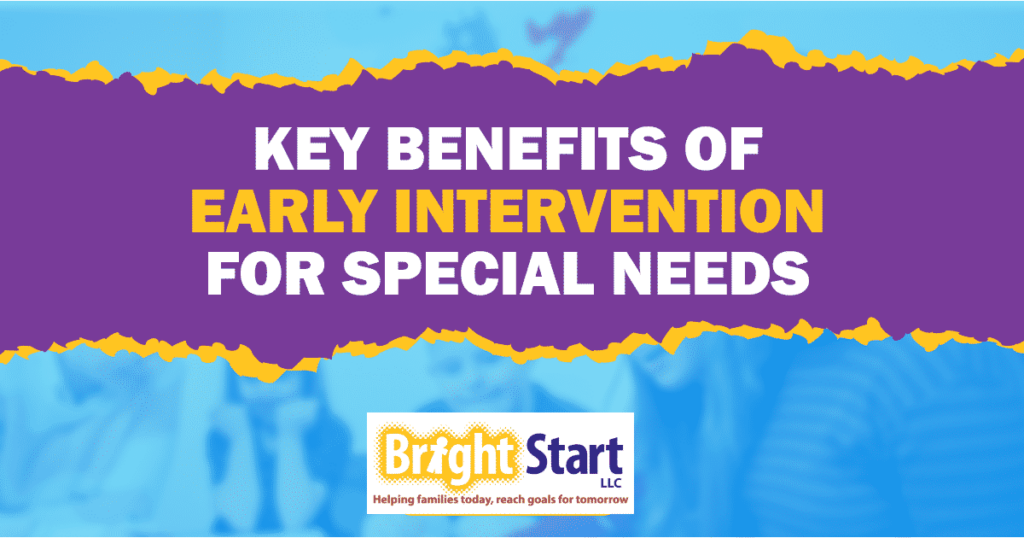 The Case for Early Intervention
Without intervention, disabilities will often increase in severity over time, which can stress relationships between siblings and parents and hinder performance and socialization at school. Children without specific conditions, but with general developmental delays, may develop disabilities if developmental concerns aren't addressed. Countless studies, however, have shown that children with developmental delays who receive intervention from trained professionals early in their childhood experience long-lasting benefits in cognitive ability, daily living skills, and socialization, all while reducing the burden of care. Intervention programs like Bright Start help you create an environment where your child can flourish, giving you the tools to maintain a safe and nurturing relationship with your child. This article will identify the benefits you can expect after early intervention.
Benefits of Parent-Child Emphasis
The benefits of Early Intervention can be seen in the child and caregiver long after the services end. The long-term benefits of Early Intervention include higher level of school achievements for the child, increased independence with the child's self help skills, and more mindful parenting skills. These long term benefits are noted most often when the Early Interventionist works directly with both the child and the caregiver. There are numerous models which can be followed in the field of Early Intervention. At Bright Start we have seen first hand the benefits of the Routines-Based Model created by Robin McWilliam. This model helps caregivers to enrich their already existing routines to include strategies to encourage their child's development. Our Early Interventionist coaches, models, and empowers you to be confident to carry over the skills and strategies within your everyday routines. This helps to ensure your child has numerous opportunities daily to practice and master these new skills. Other models that work just with the child, and do not include the caregiver, often experience what is called a "fade-out," or the gradual loss of developmental benefits as the child approaches school-age. Programs like ours, which expand support into the family as a unit, understand that childhood development isn't solely an intrinsic process, and isn't one that can be streamlined. We help you create a safe and nurturing environment that will engage you and your child in everyday activities to ensure your family unit is thriving!
Benefits of Long-Term Care Relationships
Services that emphasize on-going relationships between professionals and families have vastly better outcomes than those that focus on temporary intervention and care. Children that develop long-term relationships with early intervention professionals have more stable relationships with their caregivers, better nutrition, improved physical and mental health, reduced forms of family stress, improved cognitive and language abilities, and less need for special education services, reducing the overall cost of care over the course of their childhood and adolescence. Early intervention also reduces the chances that your child fails a grade, improving high school graduation rates and later participation in the workforce. With each passing year of your child's life, there will be new challenges and developmental milestones to understand and meet. Our Early Intervention services ensure that you have the tools to navigate your child's development in the long-term with compassionate care, helping you understand the resources available to you at every stage of your child's development.
A Multi-Faceted Approach
It's also important that in intervention, we address every aspect of your child's development. Services that are specific to a single disability, called "single-site interventions," have significantly less benefits over time. For instance, if your child has a physical impairment, addressing the impairment alone won't account for how a delay might affect your child's independence, self-esteem, and ability to form social connections. Look for services that encourage a global, multifaceted approach to your child's growth, so that they are encouraged and nurtured in all aspects of their life. Our play groups, family training, home visits, infant and child massage, and connection to community-wide resources are all part of our multi-faceted approach to treating your child's specific needs.
The Earlier the Better
Research shows that your child's brain is most flexible and open to developmental improvement between birth and three years of age. Positive experiences in this key period ensure that your child has a stable foundation for building language, cognitive, social, and motor skills. While we always suggest you seek intervention as early as possible, intervention beginning at any stage will still result in considerable improvement. If you are interested in learning more about our programs, talk to your pediatrician or contact BabyNet to make your own referral by completing an Online referral form at scdhhs.gov or by calling the BabyNet Central Referral Team at 1-866-512-8881.