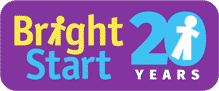 Bright Start has an excellent team of Speech-Language Pathologists dedicated to helping children with communication and feeding skills. We bring a family-centered approach to speech therapy and work with children, their families, and caregivers in the natural environment including homes, daycares, and the community. Bright Start Speech-Language Pathologists have experience working with children with a variety of delays and disorders including receptive and expressive language, feeding, pragmatic language/social skills, articulation, phonology, and fluency. Our therapists strive to empower families to help their children reach their full potential.
Members of our team have pursued additional training and have specialized experience in areas of speech/language treatment including feeding, early childhood language development, apraxia, pragmatic language deficits, severe speech sound disorders, hearing loss, behavior management, and social/emotional development. Some of our team members have completed formal training including the Sarah Rosenfield Johnson CCC-SLP's Three-Part Treatment Plan for Oral Placement Therapy, Lori Overland CCC-SLP's Feeding Therapy: A Sensory-Motor Approach, and Children Who Struggle to Speak: The Kaufman Speech to Language Protocol, PROMPT, the Beckman Oral Motor Protocol, Floortime, and the Orton-Gillingham Approach. We currently have a therapist who is pursuing board certification in Auditory Verbal Therapy and another therapist pursuing board certification in Fluency and Fluency Disorders.
We look forward to helping your family!
Serving the Columbia, Rock Hill, and Charleston areas
We are currently accepting referrals in the Midlands, York County, and Low Country areas! Please send referrals to:
Jackie Makes Learning Fun
What Would I Do Without You?
Thrilled with Our Services!
Above and Beyond
Jenna Really Cares
Grievances/Complaints give us insights into problems families/business partners are experiencing with Bright Start and help us to quickly resolve and make changes necessary to provide the best possible services to our families and the businesses we partner with. To voice your concerns, please click here.
"We absolutely LOVE Meredith! She is amazing with Xavier! He has been progressing greatly with Meredith. She has helped us get every therapy we can for our 'lil man. Thank you."