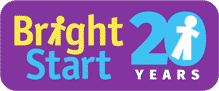 Bright Start has several staff members who are Certified Infant Massage Instructors. The benefits of infant massage are:
Reduces stress for parent and child
Stimulates neurological development
Aids in Digestion
Helps relieve gas, colic, and constipation
Increases alertness and higher awareness
Jackie Makes Learning Fun
What Would I Do Without You?
Thrilled with Our Services!
Above and Beyond
Jenna Really Cares
Grievances/Complaints give us insights into problems families/business partners are experiencing with Bright Start and help us to quickly resolve and make changes necessary to provide the best possible services to our families and the businesses we partner with. To voice your concerns, please click here.
"We absolutely LOVE Meredith! She is amazing with Xavier! He has been progressing greatly with Meredith. She has helped us get every therapy we can for our 'lil man. Thank you."